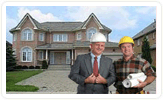 M & D Buildings has years of experience and knowledge towards professional engineering design and quality workmanship. Professionalism, skilled installers and durable materials are the key to longevity. From the very beginning our objective has been the same; to provide our clients with professional and personalized services. M & D Buildings can assure you of true satisfaction, and will help you discover the hidden possibilities in your premises. You will see the latest in residential and commercial construction and renovation concepts and innovations. We work closely with our clients ensuring total satisfaction on every project large or small.
OUR GOAL
Is to define a quality objective, focus on systems & safety, customer satisfaction, sound quality and job security.
OUR COMMITMENT
Absolutely guarantee our customer service excellence, quality and value on every aspect of every job.
OUR VISION
To be standard by which our competitors measure excellence.